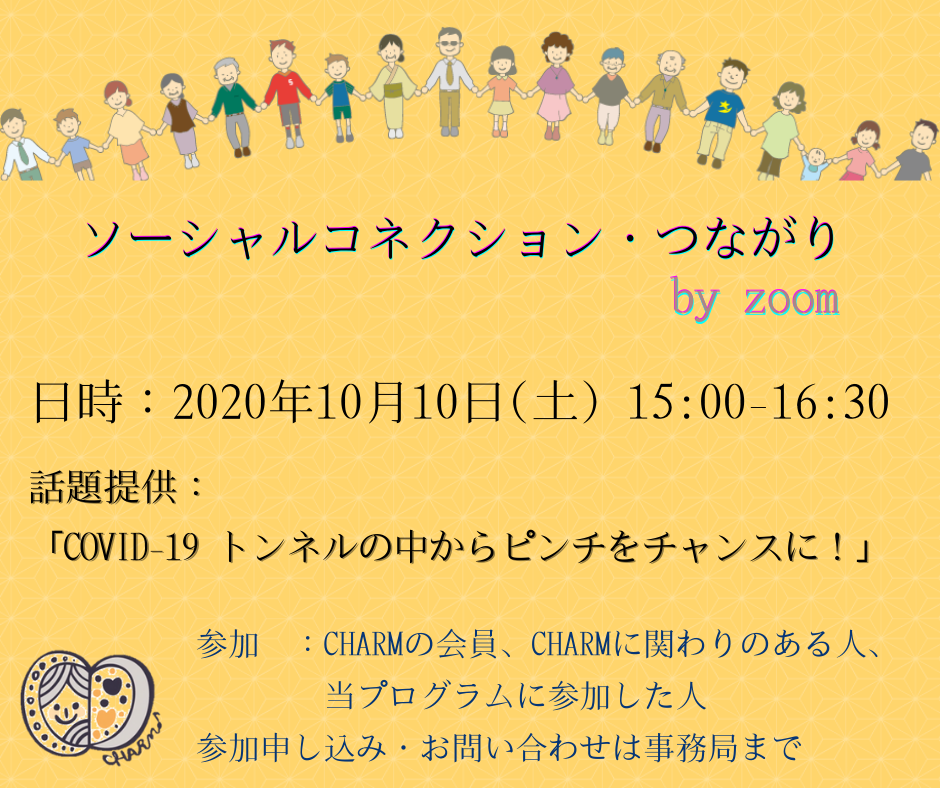 第2回 Social Connection -つながり-
(*English follows)
「COVID-19 トンネルの中からピンチをチャンスに!」
日時:2020年10月10日(土曜日) 15:00-16:30 
 方法:zoom
 参加対象:CHARMに関わりのある人、当プログラムに参加した人
 参加費:無料
 問い合わせ・申し込み : charmer(a)charmjapan.com  ※(a)を@に変更してください。
 プログラム:この半年間続いているコロナ感染症の世界。飲みにも行けない、誰とも会えない。一方、こんなことができたんだということのウキウキがあったり、当たり前にしてきたことを変えるきっかけになったり、新しい方法が生まれていることも確かではないでしょうか? 日々の生活でちょっと嬉しい経験を話し合いたいと思います。1+1は無限大。不安を夢に塗りかえましょう。
*NPO法人CHARMに関わっている人を全員CHARMERと呼びます。"Social Connection-つながり-"は、CHARMERがお互いの経験を聞き、共感し、知り、つながることで夢に向かう力を得る場です。毎回海外からもメンバーが参加しています。
---
Social Connection #2  
"Find chances in the dark tunnel of COVID-19"
Date & Time: Oct.10(Sat.) 3-4:30pm
Means: zoom (interpretation will be done by LINE simultaneously)
Participants: Anybody who is connected with CHARM
Fee: Free
Register at : charmer(a)charmjapan.com (*Please change (a) to @)
*If you want English-Japanese interpretation, please mention.
Program: Past months of "Stay home" and isolation drove us crazy. However, have you also experienced some new way of doing things? A chance to change your habit which you never questioned? It may be a beginning of a new life style.  Let us share our experiences.
*Social Connection is organized by CHARM. It is a sharing ground among CHARMERs everyone who is connected with CHARM in one way or the other. This program is aimed to be connected with each other and to broaden our perspective to share passions to toward our dreams.